Chez OctoFrost, la sûreté alimentaire a toujours été l'une de nos priorités lors de la conception et de la fabrication de nos machines. Celles-ci sont entièrement pensées pour satisfaire à l'ensemble des normes internationales applicables aux appareils de transformation alimentaire, et pour les dépasser.
Il est important de noter que la sûreté alimentaire ne concerne pas uniquement la facilité de nettoyage, mais exige aussi une cuisson à cœur des produits riches en protéines. Nous attachons la plus haute importance à ces différents aspects et nos appareils sont dotés de diverses fonctionnalités visant à garantir la sûreté des produits alimentaires et du processus de transformation.
Conception pensée pour la facilité d'entretien
Toutes les machines OctoFrost sont conçues pour aller au-delà des normes et des exigences internationales en matière d'hygiène.
Notre cuiseur IF, notre blanchisseur IF et notre refroidisseur IF possèdent tous des systèmes de nettoyage en place (NEP) qui couvrent le nettoyage de chacune des composantes de la machine entrant en contact avec l'eau de blanchiment ou de refroidissement.
Le tunnel de surgélation IQF OctoFrost™ est un appareil hermétique facile d'accès avec des angles arrondis et des pans inclinés qui facilitent un nettoyage efficace. Pour limiter les temps d'arrêt sans compromettre la sûreté alimentaire, les plaques s'échangent facilement et se nettoient à l'extérieur du surgélateur. Combiné à un système efficace de NEP, cela contribue au respect de normes de sûreté alimentaire strictes. Compte tenu du corps monobloc autoporteur du surgélateur, le dessous de la machine est également facile à nettoyer.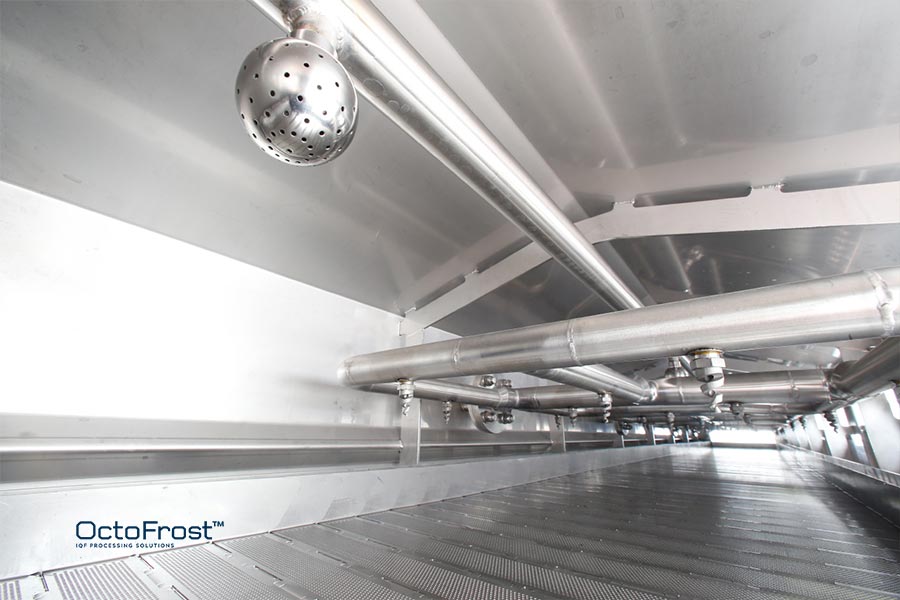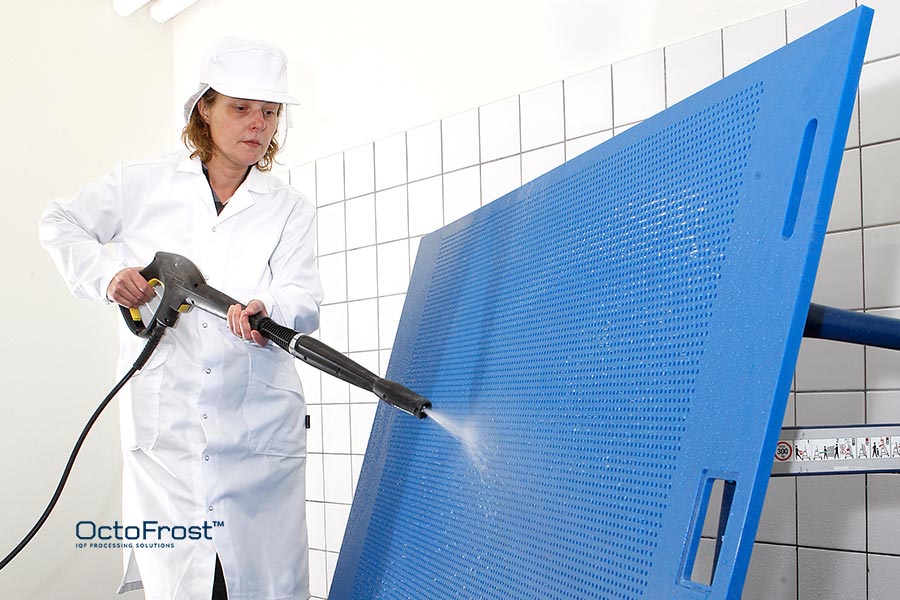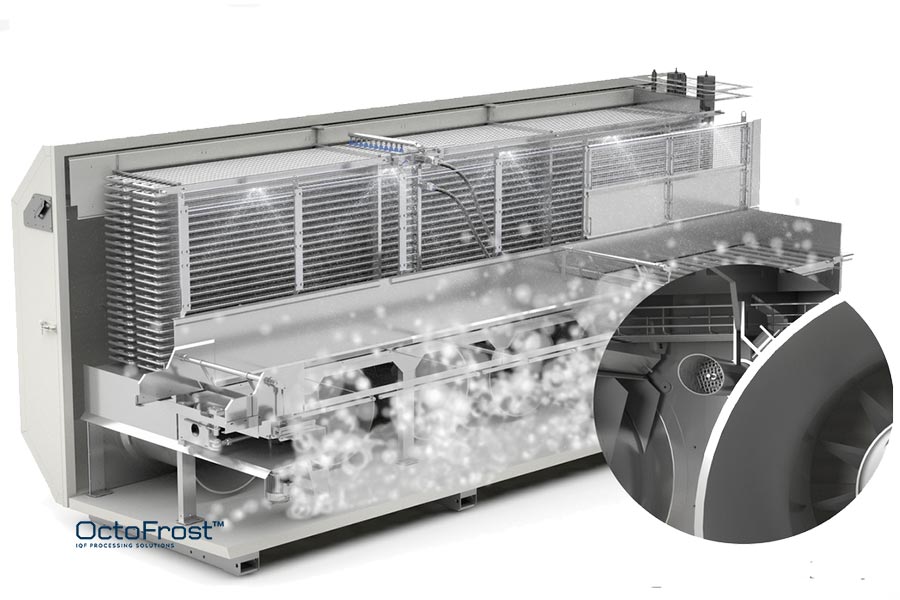 Cuisson homogène des crevettes à cœur
Concernant les crevettes, la réglementation en matière de sûreté alimentaire exige une température interne de cuisson de 73 °C. Pour préserver la qualité du produit ainsi que le niveau de rendement, cette température doit être atteinte sans excès de cuisson. Le cuiseur IF OctoFrost™ garantit une sûreté alimentaire totale et une cuisson homogène sans zones qui seraient insuffisamment cuites, ni taches grises : Accurate temperature and time control in all 3 temperature zones for high-quality shrimp.
Qualité préservée du produit grâce à la maîtrise précise de la température et du temps dans les 3 zones de température ;
Circulation transversale de l'eau pour un temps de cuisson plus court mais plus efficace ;
Rejet automatique des crevettes insuffisamment cuites dans un bac prévu à cet effet pour les empêcher de passer dans le refroidisseur ou dans le surgélateur, dans le cas, par exemple, où une défaillance de la chaudière provoquerait une chute de température.
En savoir plus sur le cuiseur IF.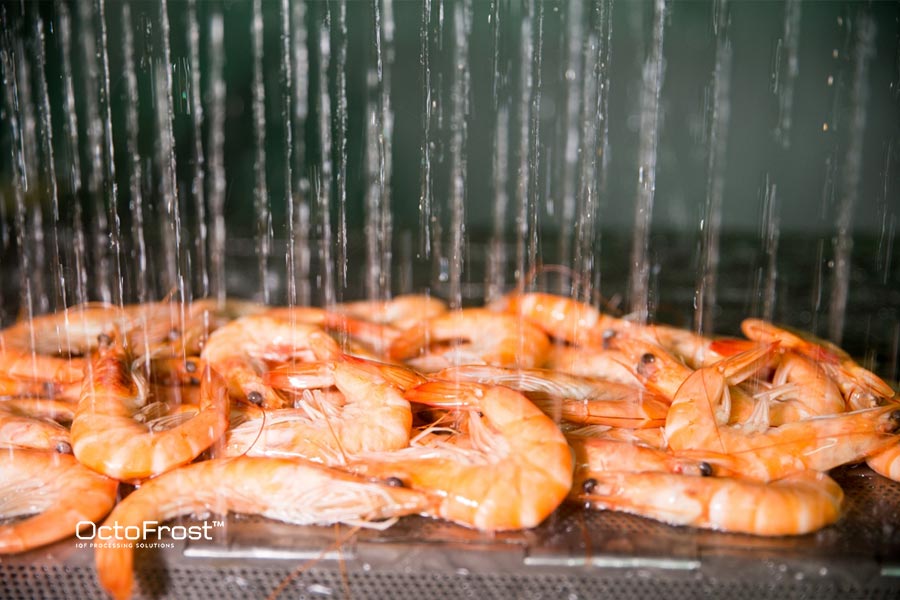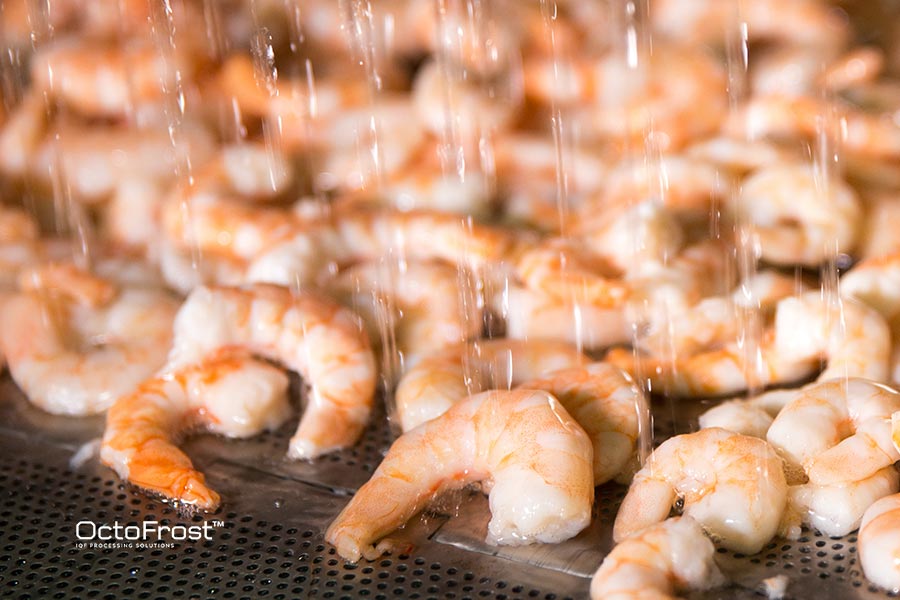 Facilité de nettoyage des bandes
Le refroidisseur IF et le blanchisseur IF Octofrost possèdent tous deux des bandes suspendues exemptes de châssis d'appui et de pièces d'usure. La qualité du cycle de nettoyage en est considérablement améliorée et le transformateur gagne un temps précieux sans pour autant transiger sur la sûreté alimentaire.
En savoir plus sur le cuiseur IF.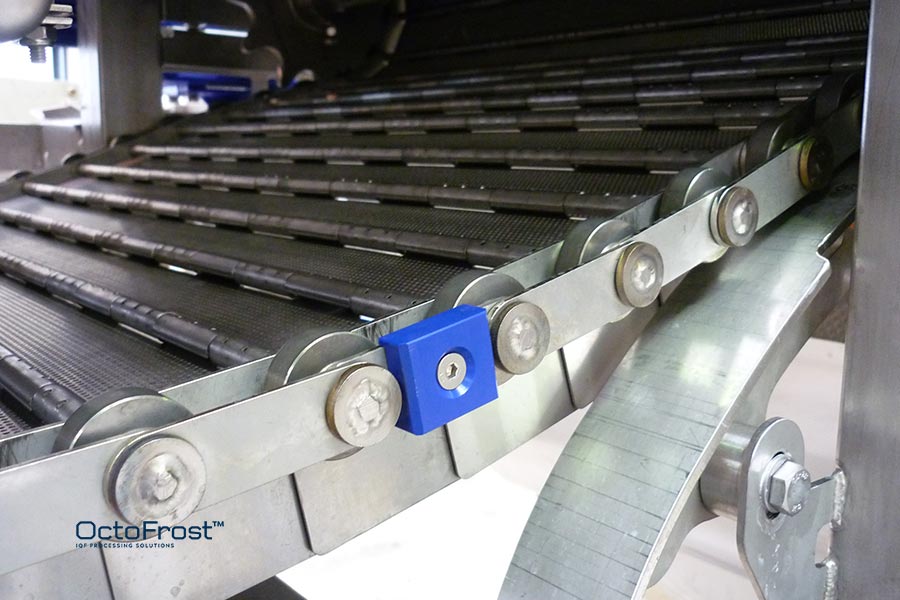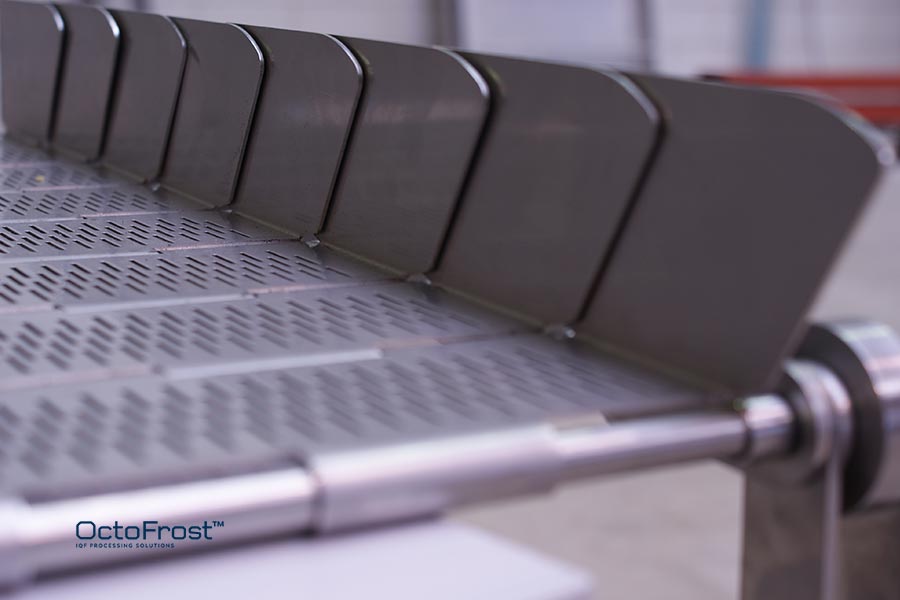 Faible température de l'eau de refroidissement
Pour garantir la sûreté alimentaire, toute l'eau de l'appareil, y compris dans l'échangeur thermique à plaques et dans le filtre à eau, reste en permanence au-dessous du seuil critique de 6 °C. Le refroidisseur peut ainsi fonctionner en continu, sans nécessité de changer l'eau avant la fin de la journée de production.
En savoir plus sur le refroidisseur IF.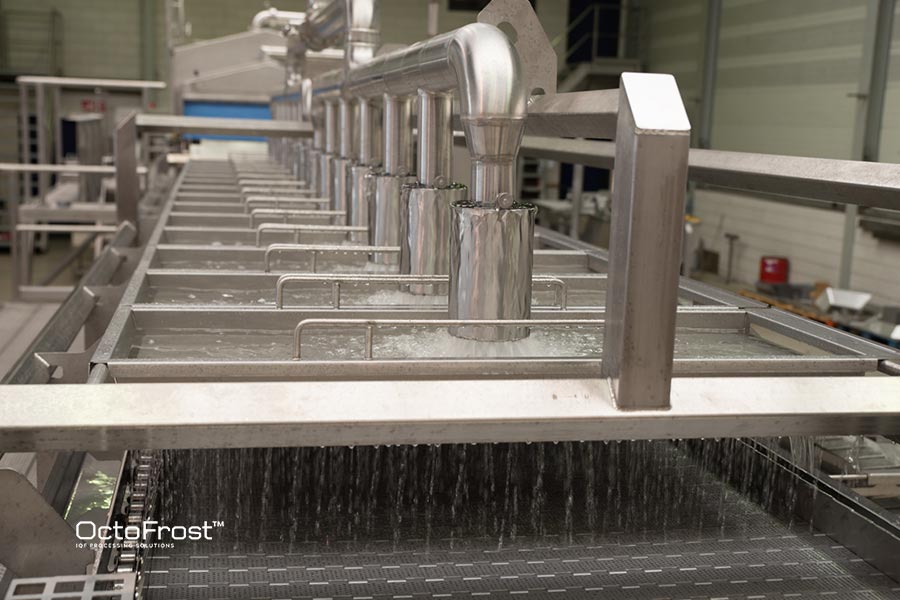 Tuyauterie en acier inoxydable
Le blanchisseur IF, le cuiseur IF et le refroidisseur IF possèdent des tuyaux en acier inoxydable AISI 316 soudés par soudage au gaz. Cela permet de garantir la sûreté alimentaire y compris lorsqu'une solution saumurée entre dans le procédé de transformation.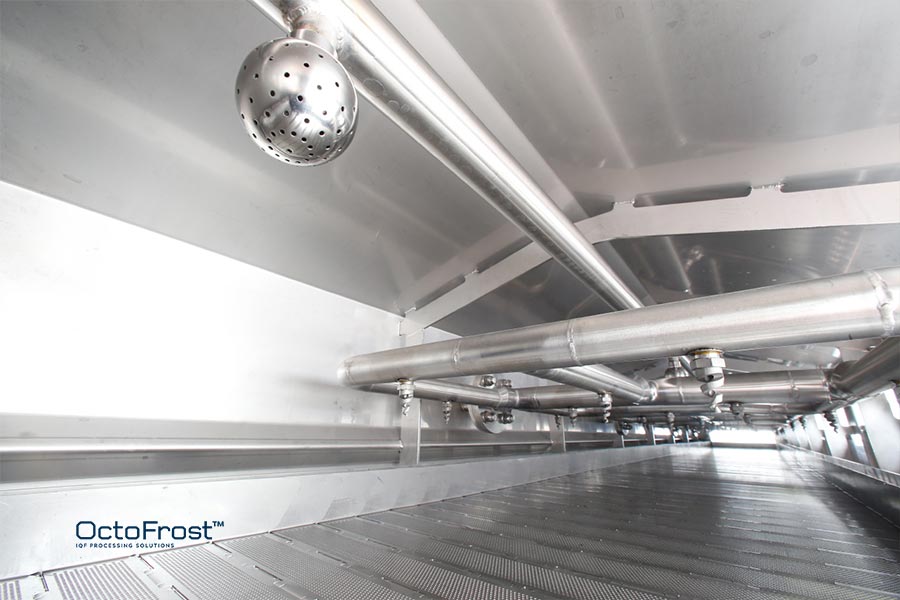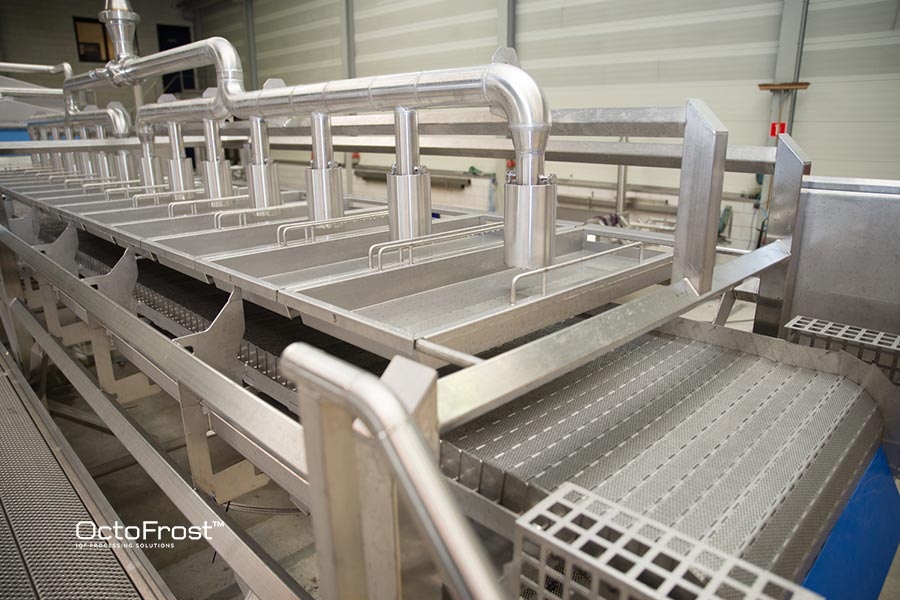 Remplacement sans danger du produit
Au lieu d'une bande transporteuse, le surgélateur IQF OctoFrost possède des plaques amovibles. Les plaques OctoFrost sont considérées comme l'une des améliorations les plus innovantes en matière d'hygiène des tunnels de surgélation. Les plaques s'assemblent comme des pièces de puzzle et se retirent facilement pour être nettoyées à l'extérieur du surgélateur : This gives the flexibility of quick product change without the risk of cross-contamination between different product batches.
vous pouvez changer rapidement le produit, sans risque de contamination croisée entre les différents lots ;
le nettoyage des plaques ne nécessite pas de temps d'arrêt puisque les plaques propres remplacent immédiatement les plaques à nettoyer ;
nettoyage facile et efficace à l'extérieur du surgélateur pour une sûreté alimentaire réellement fiable.
En savoir plus sur le surgélateur IQF.